Caviar that comes in a
toothpaste tube
. You eat it on
toast
. For
breakfast
.
In Sweden, open-faced sandwiches, with boiled eggs and
kaviar
is the way to serve it. This is not a delicacy; it is a time-honored, everyday food in Sweden and Finland. You can read more about it
here
.
I fully intend to try
kaviar
when I go to Sweden one of these days-- even though I am alarmed at the idea. I like fishy things, so that isn't what bothers me.
Is it the texture that I imagine will be objectionable? But I eat
tobiko
, the flying fish eggs that often surround my sushi rolls. So why not?
Maybe it's the idea of fish for breakfast, something they do in many other countries but don't do here. This cartoon expresses my feelings, albeit in German.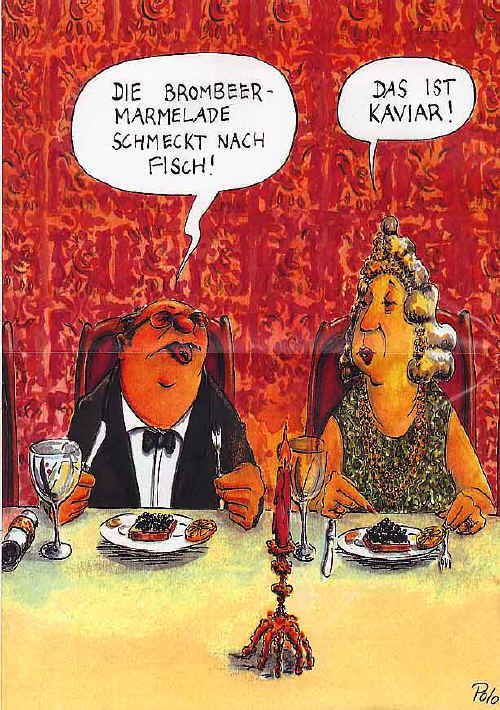 "This marmalade tastes like fish!" "This is caviar."
Maybe it's the idea of the tube. I haven't eaten things in tubes like that before, except maybe Cheese Whiz.
Update:
I just have to share with you this Swedish commercial for kaviar. At the end it says, "Kalla all gone?" "There is more at the store." And YouTube has some other funny ones too. Gotta love YouTube!